Uzbek pilaf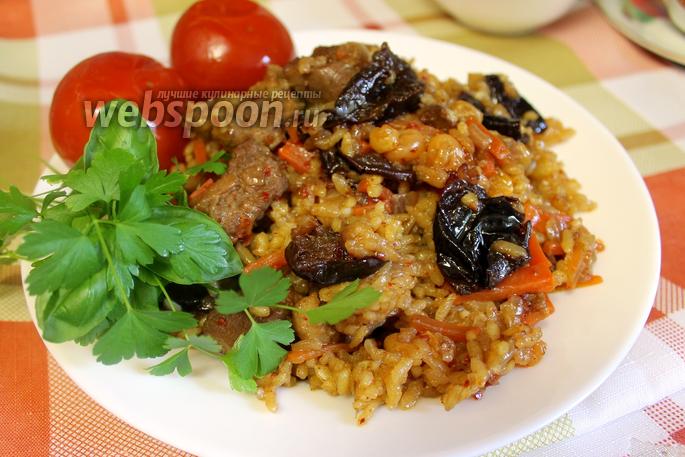 How to cook
When it becomes transparent, omit the carrots. Mix well. Fry.

Add a tablespoon with a hill of spices.

In hot oil parts to omit the meat — it should not be fried, and like opalites fat.

For cooking pilaf take the lamb with fat, rice, sunflower oil, carrots, onion, prunes, raisins, garlic, mixture of spices (barberry, cumin, azhgon, red pepper).

Rice, well rinsed (not less than 5 water), soak.

Rinse raisins and prunes.

Cover the cauldron with a lid, leave for 20 minutes.

Carrots cut into sticks, or diced onion rings (onions seemed to dissolve, it will not be visible, so it sometimes simply cut into quarters).

Prepared meat cut into pieces one bite, fat trim separately.

To heat the cauldron, pour in the oil and vyzharit mutton fat. Remove the cracklings.

The meat mix.

Add the chopped onion.

Add water — better than boiling water, 2 cups. This so-called zirvak.

On Zirak lay out a layer of fruit, mixing it with vegetables.

Spread a layer of rice, gently even out the surface and add 1 Cup of water (for round rice ratio of 1:1.5, for long 1:2). Over the surface of the rice the water should rise approximately 1 cm.

The garlic peel from the top covering of scales and omit the rice entirely. Low down the fire.

In the process of cooking rice, you can shovel towards the center, gently stir without touching the lower layers. Rice comes steamed.

The finished dish is stir and put on a platter or serve portions.
The dish is very fatty, so it is usually served with greens, sour spicy sauces, pickled fruits and vegetables and drink plenty of green tea.
Многие в наше время готовят плов. Для его приготовления используют говядину, курицу, гуся. Плов должен быть рассыпчатым, жирным, он получается необыкновенно вкусным. Рецепт узбекского плова, который я предлагаю, рассказал мужу повар-узбек, с которым не одно лето ему пришлось работать в поле. С тех пор в нашем доме приготовление плова — прерогатива мужа, специи он приобретает в одном месте на рынке и с удовольствием колдует над казаном. Именно в Узбекистане сложилась вековая технология приготовления этой классической рисовой каши. «Действительно, плов — та же каша, но сваренная по определенным строгим правилам. Известны десятки видов плова. По названию местности: ферганский, бухарский, хорезмский, самаркандский. По различным добавкам: плов с черносливом, с айвой, с урюком, с заменой части риса другими зерновыми или горохом». Раньше было принято есть плов рукой, которая складывалась щепоткой, и плов олицетворял особое общение и гостеприимство, его употребление сопровождалось неспешной беседой.
Ingredients
8 servings
Raisins light 80 g
Mutton flesh 500 g
Onion 2 PCs
Unrefined sunflower oil 50 ml
Carrots 2 PCs
Seasoning for pilaf 1 tbsp
Figure kruglozerny 2 tbsp.
Prunes 80 г
Garlic 1 head
Order ingredients
save your time
Order food!
save your time